TeenHQ Discord
As we adapt to our new normal, the Teen Services Staff is committed to finding ways to serve you through online programming, and we're excited to announce the launch of our TeenHQ Discord server!
Much like our in-person TeenHQ, the digital platform Discord creates communities through gaming, chatting, sharing, and hanging out. Our server is monitored by Teen Services Staff and follows all the same rules as TeenHQ in the library. Want to join?
Click on the link and complete the Google form. One to three (business) days after submitting the form, you'll receive a response from the teen librarian with your invitation to join! Questions, concerns, comments? Email Miss Jessica!
Dungeons and Dragons
In a land of myth and a time of magic...
Teens are invited to meet up on our Discord and talk all about D&D with other teens who also love to talk D&D! Don't know how to play? Come learn!
TeenHQ D&D Teen programming aims to provide teens (Grades 6-12, Ages 11-18) with an inviting, safe, and relaxing environment where they can build friendships and use their imaginations to create new worlds and go on epic adventures.
Teen attendees are required to follow the rules of TeenHQ and agree to our D&D Code of Conduct.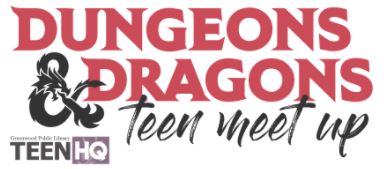 Manga and Anime Club
Do you read manga? Watch anime? Are you obsessed with all things Japan? Create fan art, fanfiction, and/or cosplay your favorite characters? Then this is the club for you!
Join us to watch shows, play games, battle in trivia, share your favorite (and least favorite) adaptations, and make new friends who love the same things you do!