Resources for history pages
The majority of the information for the History of Greenwood came from Will F. Averitt's book History of Greenwood, Indiana. Greenwood Public Library has several copies of Averitt's book. Click here to go to the catalog record.
Linda Talley and the Johnson County Museum of History in Franklin, Indiana were also helpful in gathering information and photos of Greenwood from the past 150 years.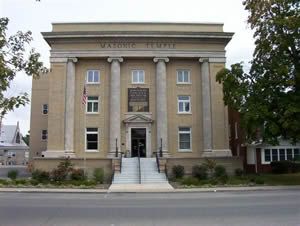 Most of the images of the History of Greenwood are from the museum's digital collection of images. Click here to visit the museum's website.
In addition, a donation from the family of Harold Toombs was also helpful. The Toombs family donated several old newspaper clippings which highlighted important events in Greenwood's history as well as in Greenwood Public Library's history. A majority of the images used were from the Toombs family's donation.
Harold Toombs was a long-time supporter of GPL. On February 6 1992, Toombs wrote the following poem which he donated to the library:
At Last

Seventy-five years have gone by
Since, on a cold sixth of February,
A hopeful few made one more try
To create a public library.

There had been a longtime dream.
Efforts to make it true had failed
Until seven leaders formed a team
That, against great odds, prevailed

Twas 1917, at a bad time of year
To have a needed book shower.
Then there was less worry and fear,
As books were brought hour after hour.

And in a dingy upstairs room
Joy and confidence abounded.
At last, there was no cause for gloom –
Greenwood's library had been founded.