In the Teen Room
Has your child graduated from the Kids Department? Are they ready and excited for the fun they'll experience in TeenHQ?
We're excited to have them!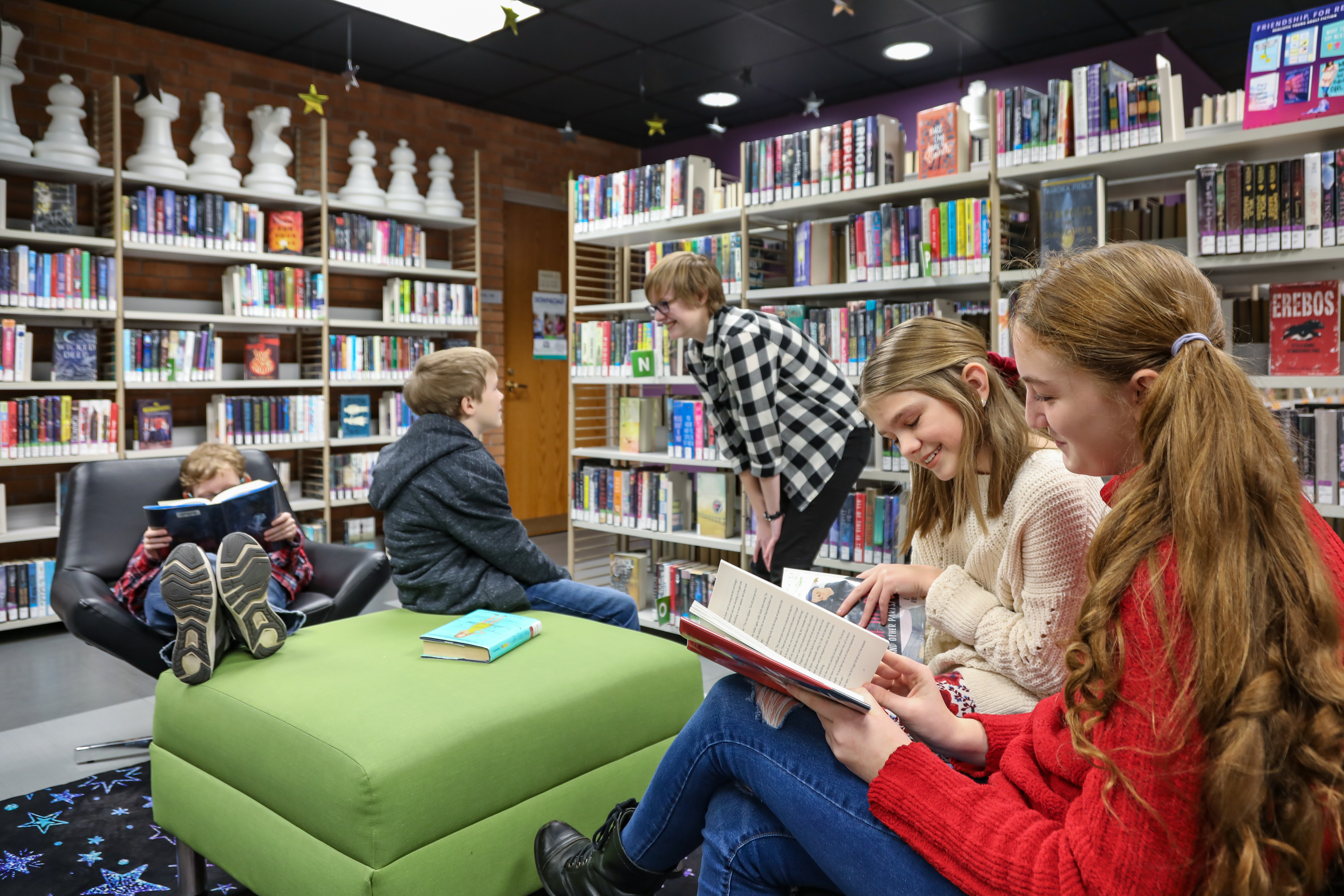 Developing a dedicated, attractive, motivating teen-oriented space provides a way to create a positive environment for teens to study and socialize. It also contributes to the safety and well-being of teens while in the library. The social nature and unique characteristics of this age group require a separate space designed for their needs.
TeenHQ looks and works much differently than the Children's Department, but we hope to provide a smooth transition for you and your teen.
Here's what to expect in TeenHQ:
During the school year, TeenHQ is staffed from 1-5pm by a full-time Teen Librarian. The teen room is closed to all activity, besides book selection, at 5pm. We do our best to supervise TeenHQ during peak hours.
The Teen Services staff purchase materials for grades 6-12. Content and maturity levels span from middle school to high school and young adult. We encourage you to remain involved in selecting materials for your teen. Parents and guardians are responsible for deciding which items are appropriate for their teen to read/view. Library staff will not censor a teen's selections, but we are available to help you with the selection process.
Programming in TeenHQ is intended for interested participants entering 6th grade (and at least 11 years old) through 12th grade. Grade levels on special events may vary. Please contact us with questions on program participation.
To ensure that teens feel comfortable expressing their individuality, parental supervision at programs is discouraged. We welcome the opportunity to speak with you about your concerns with the hopes of assuring that you, your teen, and the other teens participating feel welcome and comfortable at library programs. Establishing lasting relationships with our teens and their parents is our top priority.
Please visit our Teen Programs page for information on upcoming Teen Programs. We encourage teens to register online for upcoming programs to ensure that we have enough supplies for each participant.
If you have questions or concerns about TeenHQ policies and procedures, please contact our TeenHQ staff:
Jessica Smith, Teen Specialist
jsmith@greenwoodlibrary.us
Emily Ellis, Assistant Director
eellis@greenwoodlibrary.us